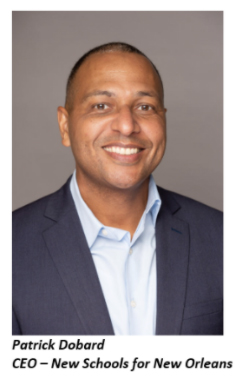 15 years after Hurricane Katrina, mentioning the Recovery School District (RSD) in New Orleans can bring forth a lot of memories, both good and bad. I led the RSD between 2012-2017. It was a challenging job, but I was grateful for the chance to serve the children, families, educators, and our community.
The RSD was a district created in 2003 by the Louisiana state legislature. Its goal was to help academically struggling schools improve. After Hurricane Katrina, the RSD managed most New Orleans Public Schools.
This brought both progress and difficulty.
For instance, some will recall a now-infamous meeting in 2010 at the old McDonogh 35 building on Kerlerec Street. Paul Vallas was the RSD Superintendent at the time, and he and the state's Board of Elementary and Secondary Education (BESE) gathered to discuss the potential return of New Orleans Public Schools to local control. During the meeting, families and alumni of New Orleans public schools expressed real frustration with the way things happened since the storm. They felt left out of the conversation about rebuilding schools in their own city and skeptical about the new charter format of many historic schools. There was a great deal of pain.
Some might also recall more positive moments, like when the Orleans Parish School Board (OPSB) met in the new McDonogh 35 building in 2016 to discuss the new equitable differentiated funding formula the RSD had developed for all public schools in New Orleans. This formula meant that schools would finally get more money to help students who would benefit from more costly supports—like those learning English or those with special needs.
There is much, like the passing of the differentiated funding formula, that I am proud of during my time as the Superintendent of the RSD. I am proud of the powerful growth I saw in New Orleans' classrooms, and the teaching, learning, coaching, and leading I witnessed.
But I am also proud of an aspect of our work that's less frequently discussed: the use of Disadvantaged Business Enterprises (DBEs) to physically rebuild our schools.
When I came into my role in 2012, we were faced not just with academic distress, but with the enormous task of repairing and rebuilding school sites that had been damaged during Hurricane Katrina. We had $1.8 billion from FEMA to use for school reconstruction, and we had to manage it well. We needed to pick great contractors to take on this enormous job.
Many Black elected officials and influential stakeholders in New Orleans had long been pressing State Superintendent Paul Pastorek to use DBEs as part of school reconstruction in our city. This was an important request—a law instituted under Governor Mike Foster had long been interpreted to say that no state agency could have a DBE component in work contracts. Local leaders rightly wanted that changed. They wanted the Recovery School District to set aside a percentage of business for companies owned by women and people of color.
I got the chance to help make that a reality. It started in 2011, when John White was the RSD Superintendent. I was on his leadership team, and in a document we created called "What Will it Take," we outlined what we felt it would take to ensure all students were ready for college and career in Louisiana. Creating a DBE program for school-related contracts was a part of that; we promised it would happen. When John was then tapped to lead the Louisiana Department of Education, I was appointed to take on his former role and follow through on that promise.
The project was personal. There was much discussion in New Orleans about rebuilding several legacy high schools in New Orleans, including Booker T. Washington (BTW), where my father graduated from. I remember going to see former City Councilman Jim Singleton about the DBE program. Once, when introducing me as the Superintendent in a meeting, he added that he had known me 'since I was in my mother's womb.' It was true. He and my father were some of the founders of a NOLA social and pleasure club, The Mustangs. So, I didn't really know him as Councilman Singleton. I knew him as my dad's friend, Big Jim.
When I shared with him that I wanted to see the DBE policy to fruition, he told me that it would be huge. He knew the economic impact it would have on minorities and women in New Orleans would be profound. He had been a champion of DBE while on the council and knew the power of having such a policy. He said that, if I was serious about it, he would help in any way he could–but I had to make sure to keep my promise.
When I left our meeting that day, something clicked for me. Councilman Singleton had talked about how BTW trained many individuals, like my dad, to have businesses or occupations in electrical engineering, architecture, and carpentry, among other fields. That day, I thought back to when I was about ten years old. One of my dad's friends landed a subcontracting job with a larger construction company at the then-Landmark Hotel in Metairie (the octagon-shaped Copeland building of today). He gave my dad steady work on that job, and I seem to recall how the food to feed seven kids and a wife got more solid.
When I asked around about it, I learned that my dad's friend, who was a Black contractor, just happened to get that job as a subcontractor—it was difficult for Black contractors to get that type of work. I was glad that my own dad had gotten the job through him.
Now, I was determined to ensure that whether or not you "knew someone" would not determine if you would get in on a job. I knew, as Councilman Singleton knew, that a transparent open bid process for those that have been systemically disadvantaged was the right way to go. So now, we had to figure out how to get the state law changed.
Patrick Dobard with his father, Fred Dobard, and brother, Fred Dobard, Jr., at the ribbon-cutting ceremony for Booker T. Washington High School's new site.
Luckily, NOLA is a small city and a big extended family. The degrees of separation are small. I had been involved with the legislature for a few years and because of that, I knew Senator Karen Cater Peterson. She agreed that our DBE goal was critical and she was determined to help get it done. By chance, she reconnected me with a childhood friend of mine, Daniel Davillier, a lawyer who was an expert on the matter. He and Senator Peterson had been law partners, and he was more than happy to help me out.
After looking into it carefully, Daniel concluded that the law was actually silent on this matter. It didn't clearly say whether we could do a DBE program or not. He said, at worst, we'd get sued by contractors—in fact, we probably would. And we could possibly lose, so I had to decide if it was worth it.
I remember thinking, even if I lose my job over this, it's worth it. I had a meeting with Daniel, John White, and the Deputy of Facilities for the RSD at the time, Lona Hankins. We all agreed it was well worth the risk.
On June 25, 2012, in my first big policy move, we announced the RSD's plan and had the full support of then-Senator Mary Landrieu, state Senator Karen Peterson, and a number of other local leaders. I almost immediately got a threatening email from some construction interest. Nothing ever came of it, and we proceeded with partners like the Urban League of New Orleans to create the RSD DBE program.
It is one of my proudest moments at the RSD. From December 2012 to August 2020, RSD construction contracts totaled $4.3 billion; of that amount, DBE participation totaled $1.1 billion. These are actual dollars to sustain businesses that have not always had the same support and recognition as others. This inclusion represents countless families, much like my own. In fact, many years after the program started, Booker T. Washington High School was rebuilt and 34% of the contractors were DBEs, doing work valued at $19 million dollars. There were over 34 different DBE vendors on that job alone. I know that made the difference in so many families' lives. The food to feed their families got more solid.
This was a group effort between so many of us—from the activists and leaders that had long been calling for this, to our team, to the politicians that helped us out. I feel proud to have kept my promise to Mr. Singleton and the people of NOLA. And I feel proud to have helped rebuild the building my father learned in with a diverse, efficient, and skilled group of contractors. Fifteen years since Katrina, we still have a lot of work to do. But we got this part right.
Patrick Dobard is the CEO of New Schools from New Orleans.